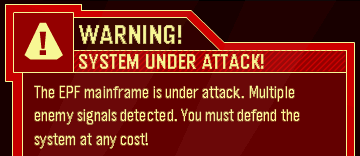 ATTENTION ELITE AGENTS! The Elite Penguin Force system is under attack! Head to the System Defender station immediately to play this new level!
Klutzy
is attacking us! And the weird this is that he thinks he's playing a arcade game on Hebert's computer! LOL!
This level is 54% out of 100% difficult, not too bad. The best part about it is that it's for nonmembers too!
After you complete the level, you get this "Klutzy Attack" stamp.
Good luck!
Click here
for System Defender cheats.
—Cena12121, www.TeamClubPenguinCheats.blogspot.com